سه شنبه 28 فروردین 1386 03:04 ق.ظ
نظرات ()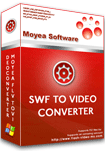 Moyea SWF to Video Converter is a perfect program that can Convert flash projector, swf to video, such as avi, mpeg, 3gp, mp4, mp3 and it offers the solutions to problems that many other flash to video converting tools cannot solve, such as video and audio asynchronization, loss of frames, audio distortion, the process of alpha channel, and the process of both internal and external Flash video(flv). With the leading audio and video codec, Moyea swf to Video Converter lets you easily and fully enjoy the original effects of your swf files on your PC, iPod, PSP, cell phones, DVD players and other portable devices.
Supports animated LOGO, GIF picture and transparent background.
The only program that realizes the Alpha Channel of original Flash files.
Easily convert many files with batch mode.
Convert flash to MP4, and support ipod and psp compatible codes such as H264, and MPEG4.
Convert SWF to DVD, SWF to VCD / SVCD compatible MPEG files.
Convert flash, swf to AVI, and support codecs such as 3ivx, DivX, and Xvid.
Perfectly covert complicated Flash, flv files and completely complies with the rule of WYSIWYG.
Adopt the Lower-Playback-Speed technology to achieve accurate audio and video synchronization and no skip frames.
Use audio-extracting method to 100% keep the original sound.
Support multiple file types input, including swf, and flash exe.
Easy to use interface.
Let users easily select an area of a Flash file to convert.
Perfectly convert built-in Flash videos(flv) or linked Flash videos.